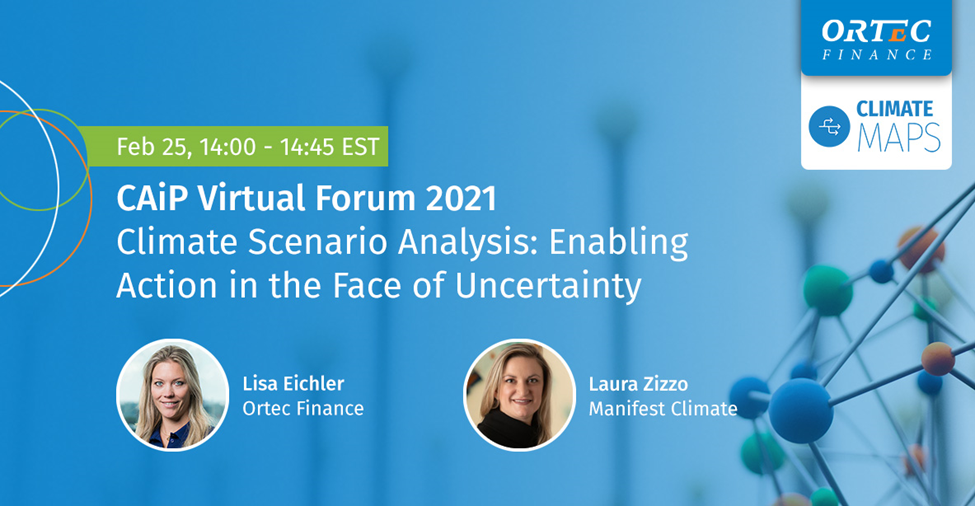 This year, we have joined forces with Manifest Climate (formerly Mantle314) to present at the CAiP Virtual Forum on February 25th. CAiP is the leading provider of high-quality information and insights—their virtual forums are designed by pension fund investment executives, for pension fund investment executives.
Each forum provides pension fund allocators direct access to the information, resources, and connections necessary to maximize returns on their alternative, fixed income, and private equity investments.
Lisa Eichler (Climate & ESG Solutions Co-Head at Ortec Finance) will present, together with Laura Zizzo (CEO & Co-Founder of Manifest Climate - formerly Mantle314), on Climate Scenario Analysis: Enabling Action in the Face of Uncertainty.
Climate change is a complex subject, and tackling the risks it brings to pensions can be daunting. It can be hard to know where to begin. Where are the risks, and what opportunities might it bring? Climate change scenario analysis can help make these risks more tangible, therefore easier to build into your decision-making.
Ortec Finance's Climate MAPS quantifies your portfolio's exposure to systemic climate-related financial risks & opportunities across different climate scenarios. Learn more about how this tool can improve your investment decision-making by visiting our website or downloading the brochure.
The CAiP Virtual Forum will focus on Sustainability in ESG Investments, headlined by pension fund executives, features keynote presentations by thought leaders, panels with pension plan executives, spotlight sessions pairing industry experts with pension plan execs, and interactive sessions with members of the pension fund community.