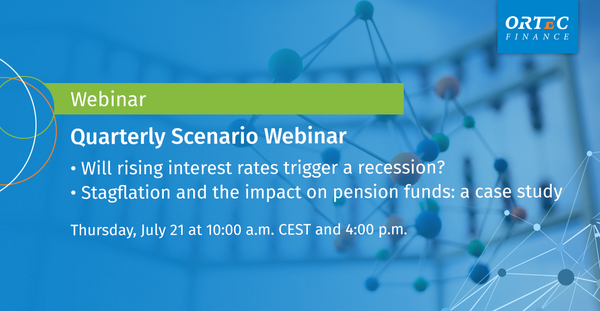 Join us on July 21 for the Q2 edition of the Economic Scenario Outlook webinar. Our in-house experts Marijn Heijmerikx and Tom Hazenberg will walk you through our latest quarterly outlook and discuss the impact of stagflation on pension funds.
The webinar covers:
The impact of the latest market conditions on our quarterly outlook
Will tightening global financial conditions trigger a recession?
How could stagflation impact pension funds?
Quarterly Scenario Webinar
10:00 - 11:00 a.m. CEST or 4:00 - 5:00 p.m. CEST
*You can choose to attend one of the above-mentioned timeslots
The webinar consists of a 45 min presentation followed by a 15-minute Q&A.
Register for the 10 a.m. CEST webinar option Register for the 4 p.m. CEST webinar option
Questions?
For more information, please contact Marijn.Heijmerikx@ortec-finance.com.