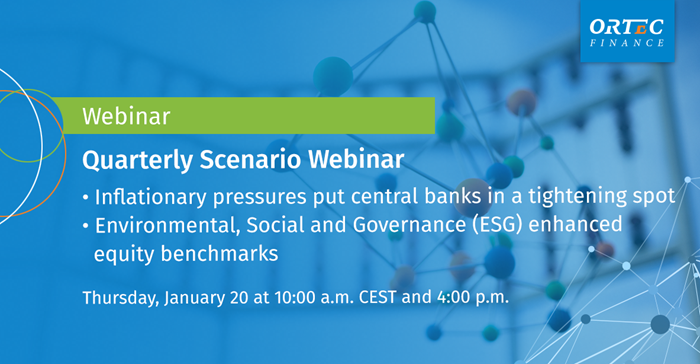 Join us on January 20 for the Q4 edition of the Economic Scenario Outlook webinar. In this latest session, our in-house experts Patrick Tuijp, Sven Herrewijn, and Russ Bowdrey will discuss the potential economic consequences resulting from the current inflationary pressures and walk you through our unique modeling methodology for ESG Leaders and Climate Paris Aligned Equity benchmarks.
The webinar covers:
The impact of the latest market conditions on our quarterly outlook
The potential consequences of the current inflationary pressures as well as their impact on monetary policy
How we model ESG Leaders and Climate Paris Aligned Equity benchmarks as well as how they behave under different climate pathways compared to the corresponding standard equity benchmarks
Quarterly Scenario Webinar
Thursday, January 20, 2022
10:00 - 11:00 a.m. CEST or 4:00 - 5:00 p.m. CEST
*You can choose to attend one of the above-mentioned timeslots
The webinar consists of a 45 min presentation followed by a 15-minute Q&A.
Register for the 10 a.m. CEST webinar option Register for the 4 p.m. CEST webinar option