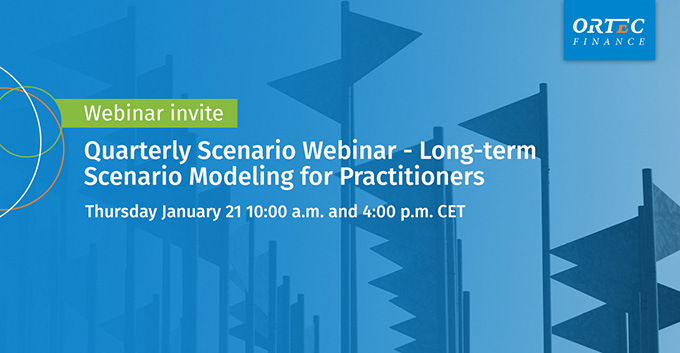 Join us on our January 21 webinar to hear our team of experts guide you through our latest Economic Scenario Outlook and learn about Long-term Scenario Modeling for Practitioners.
Ortec Finance's Patrick Tuijp, Expert Scenarios & Asset Valuation and Hens Steehouwer, Head of Research, will be updating you during our Quarterly Scenario Webinar - Long-term Scenario Modeling for Practitioners. The webinar lasts 60 minutes – including 15 minutes Q&A - and will be held at 10:00 am and 04:00 pm CET.
Hear and learn
How practitioners, benefitting from academic research, can build and apply scenario models for long-term investment horizons
How to take into account the many uncertainties of today's world: e.g. monetary policy, demographic developments, low interest rates, the pandemic and climate risk
Our latest research insights on long-term economic and Capital Market Assumptions.
Presentation and recording will be sent to participants and made available online. The webinar comprises of a 45-minute presentation, followed by a 15-minute Q&A.
Interested?
Register for any of the two sessions via the button below.
Register for the 10 a.m. CET webinar option Register for the 4 p.m. CET webinar option