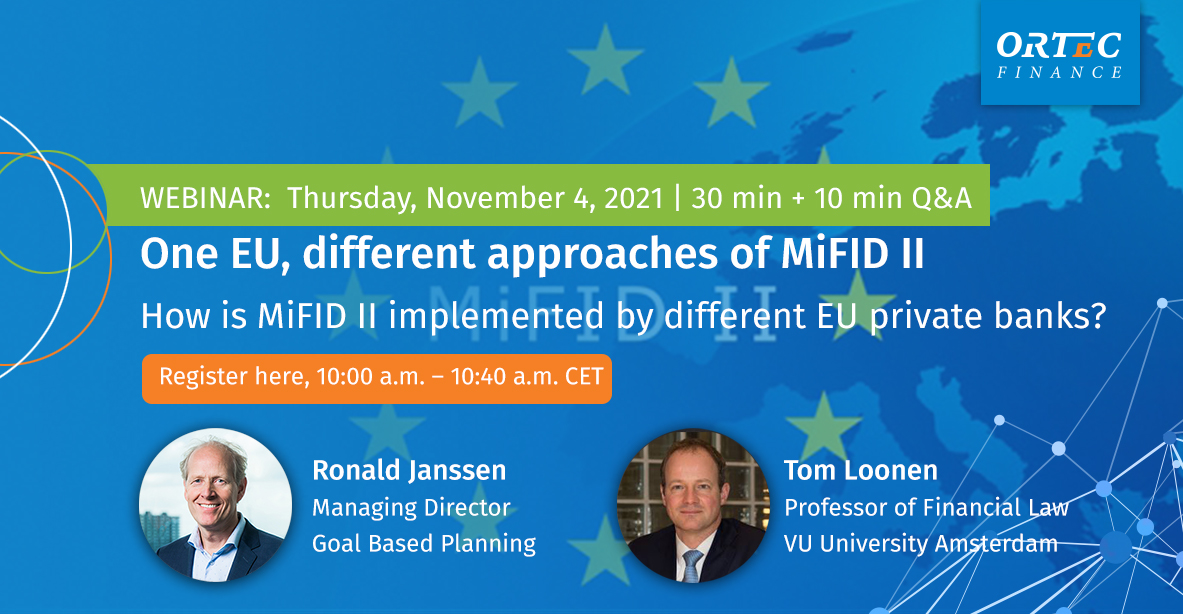 MiFID II requires private banks and wealth managers to demonstrate that the investment product or instrument they offer is suitable for their client. This suitability requirement also includes that the client has sufficient investment knowledge and experience to understand the functioning and the risks of the investment product(s) or instrument(s).
Ronald Janssen (Managing Director Goal Based Planning at Ortec Finance), together with Tom Loonen (Professor of Financial Law at VU University Amsterdam) conducted a pan-European research by interviewing policymakers of 25 private banks across 10 European countries. This research focused on the quality of the KYC ('Know Your Customer') information, that private banks obtain from their clients, and the extent to which it is digitized and translated into a risk profile. The research also focused on whether this process was client- or product-oriented, and the way client risks are controlled and monitored.
The webinar in short:
How is MiFID II implemented by different EU private banks?
This webinar provides insights on the way in which EU private banks deal with the KYC principle.
What kind of information are private banks collecting in order to meet the KYC obligations under MiFID II?
How do private banks use this information?
How often and how is this information being updated?
What can be best-practices as a follow up from the research?
Info
Thursday, November 4, 2021
10:00 – 10:40 a.m. CET
Speakers: Ronald Janssen & Tom Loonen
This is a 30-minute webinar, followed by a 10-minute Q&A round