AsianInvestor, the premier publication and online source focusing on asset management and Asian capital news for institutional investors, published an interview with Elske van de Burgt, Managing Director Investment Performance and Stefano Seung Jin Lee, Managing Director Australia & New Zealand, on How to decompose complex portfolios and return.
AsianInvestor asks Ortec Finance's view on how investors still can measure and maximise returns in compounded portfolios while their asset allocation matrix is becoming more complex.
Amongst others they mention that increased complexity is "due to low rates, resulting in increasingly finding new sources of return in private assets, increased inflation risk perception and the rise of environmental, social and governance (ESG) metrics to make portfolios more resilient".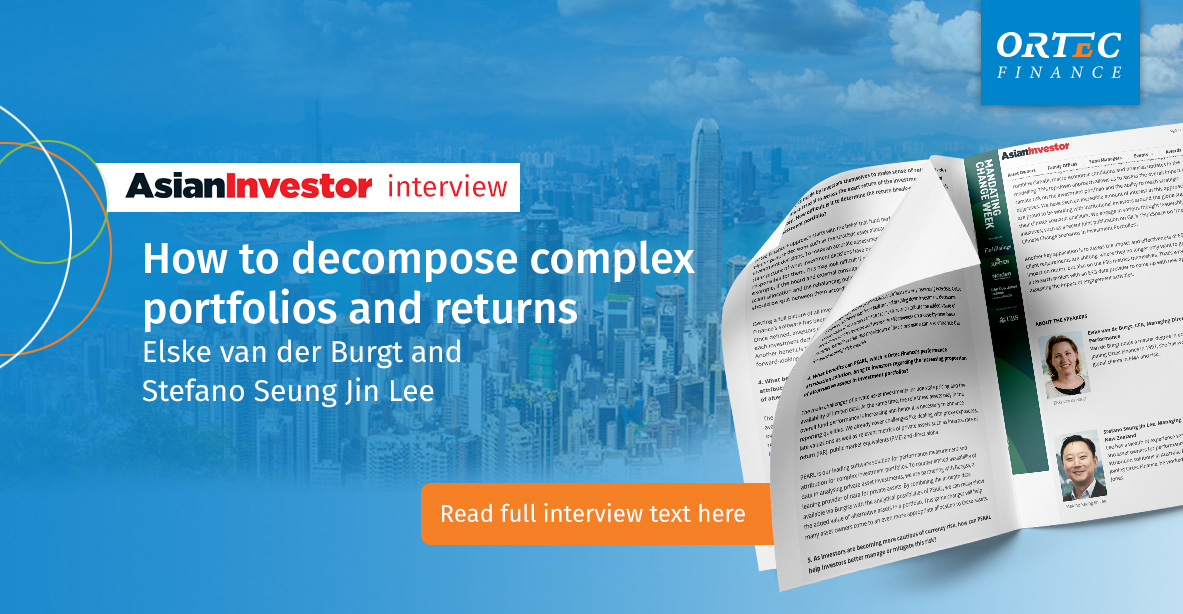 This complexity can however by coped with by having a holistic approach that balances strategic objectives and the investment approach, by applying sophisticated scenario analysis to actively monitor the risk tolerance and by having strong risk and performance solutions.
On How to determine the return break-down of a complex investment portfolio, Van de Burgt says: "Ortec Finance's approach starts with the belief that fund performance is driven by bigger picture decisions such as the strategic asset allocation and a host of other investment decisions. To make an accurate assessment, it is critical to start with a clear picture of what investment decisions have been made and who are responsible for them."
She continues with "Ortec Finance's software (performance measurement & attribution solution PEARL) has been built around breaking down investment decisions. Once defined, investors can start to measure and attribute the added value of each investment decision and assess its effectiveness on a case-by-case basis."
Alternative assets, dealing with currency risks & incorporating ESG in portfolios
The interview with Seung Jin Lee and Van de Burgt as well mentions "To counter limited availability of data in analysing private asset investments, we are partnering with Burgiss, a leading provider of data for private assets."
And that "to come to a consistent integral evaluation model to fairly evaluate the market and currency investments, PEARL is able to model and attribute the various decisions made in the process of currency management, such as currency allocation, proxy hedge, timing and operational impacts."
In the last question upon how Ortec Finance helps investors incorporate ESG into their investment portfolios, they answer with: "In our forward-looking solution, we have come up with a unique approach to combine climate, macro-economic conditions and financial updates in the modelling. This top-down approach allows us to assess the overall impact of climate risk on the investment portfolio and the ability to reach strategic objectives."
And "We engage in various thought leadership initiatives, such as a recent joint publication on GIC's ThinkSpace on 'The Role of Climate Change Scenarios in Investment Portfolios'." In addition, the interview mentions "we initiated a research project with an ESG data provider to come up with new approaches for assessing the impact of engagement activities."
Full interview text
Please see AsianInvestor's website for the full interview text.
>> To Ortec Finance Performance Measurement & Attribution page.