Ortec Finance is honored that the Journal of Performance Measurement (JPM) republished a Landmark article that was co-authored by Elske van de Burgt, Managing Director Ortec Finance Investment Performance.
Decision-Based Evaluation of the Performance of a Hierarchically Structured Investment Process explains the foundations underlying our modern-day decision-based attribution. The methodology is strongly embedded in our performance attribution system PEARL.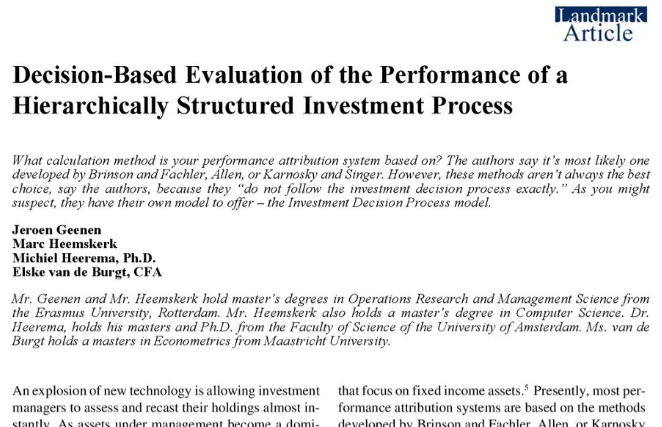 Investors across the globe use this approach to understand the impact of every single investment decision on their total portfolio performance. This includes strategic, tactical and operational decisions as well as various overlay programs.
Elske van de Burgt: "It is an honor that the JPM decided to republish this article. While decision-based attribution was very innovative when it was first published, the concept is still extremely relevant today. Over the years we continued to fine-tune our approach and succeeded in keeping it relevant so that it can be applied to any investment process and the latest strategies. As such, it is a highly effective approach for any investor that wants to fully understand the decision that drives the performance and how this decision can be improved. Of course the credits go to my (former) colleagues who took the initiative to write the article and get it published in this journal - that has always been a must read for anyone working in the industry."
About the Journal of Performance Measurement
The Journal of Performance Measurement has grown to be the preeminent journal for performance practitioners and it is now available digitally. Reading The Journal is essential for professionals wanting to remain on the leading edge of performance measurement. The Journal is a publication of The Spaulding Group. The Spaulding Group is considered by many practitioners to be the most influential performance measurement services firm in the investment industry.