Read BCG Pension Risk Consultants' Q&A with Ton van Welie, CEO Ortec Finance.
Ortec Finance CEO Ton van Welie spoke with Stephen Keating from BCG Pension Risk Consultants I BCG Penbridge as part of BCG's Spotlight Q&A Series and was featured in the July edition of BCG's highly followed pension industry newsletter - The BCG Pension Insider.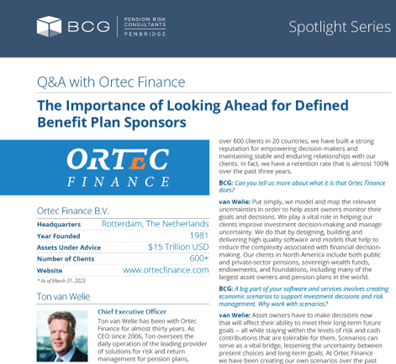 In this Q&A, titled The Importance of Looking Ahead for Defined Benefit Plan Sponsors, Ton had the opportunity to provide an introduction to Ortec Finance's business, describe how he and the Ortec Finance team help many of the largest institutional investors in the world make complex financial decisions, and provide his insights on why defined benefit pension plans may want to reduce risk in the current market environment, with particular emphasis on well-funded DB plans.
See the full Q&A text here
Or download a pdf here.