At Ortec Finance, we strongly believe in the importance of soliciting and listening to customer feedback.
In the context of a worldwide crisis such as the one we are facing due to Covid-19, it is even more crucial for us to understand how our clients experience our services, as well as to learn how we can further improve them. Our annual customer satisfaction survey allows us to measure our clients' perceptions of how well we serve them, and of the quality of the products and services that we provide. We are proud to announce that, for the third year in a row, the survey shows consistent high scores on satisfaction!
"Closing one of the most uncertain years at a global level knowing that our customers are still with us and think we are doing an excellent job truly means a lot to us. Once again, we feel very proud of these results! In our company, we have structured processes in place to make sure that we use the results of our yearly customer satisfaction survey to improve ourselves by translating our customers' valuable suggestions into concrete follow-up actions. We have already been in contact with several of our clients to further discuss their suggestions and remarks", commented Martijn Vos, COO of Ortec Finance.
All figures below indicate the percentage of respondents assigning us a rating of 6 or 7 on a 7-point scale.
Overall satisfaction
93.3% of surveyed clients are very satisfied with Ortec Finance. Keeping our clients satisfied is one of our most important goals, and we are glad to learn that not only did we perform as well as in previous years, but even better! This motivates us to work even harder to refine our products and approach to support all of our clients even better.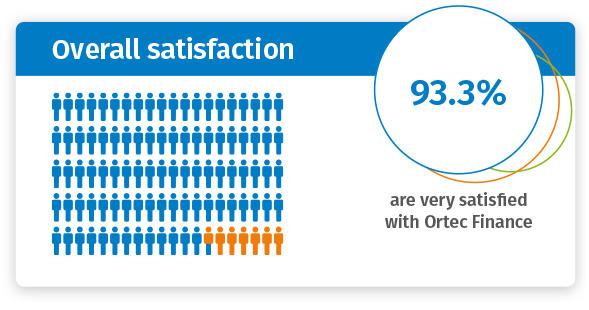 Satisfaction with Ortec Finance team
94.2% of surveyed clients are very satisfied with the Ortec Finance team they interact with. Our people are our number one asset, and it is truly great to hear that surveyed clients see them as reliable sparring partners.
In particular, surveyed clients find that the Ortec Finance team they interact with performs very well on the following aspects:
95% of surveyed clients find the Ortec Finance team are very pleasant to interact with
92.5% of surveyed clients find the Ortec Finance team are experts concerning Ortec Finance solutions.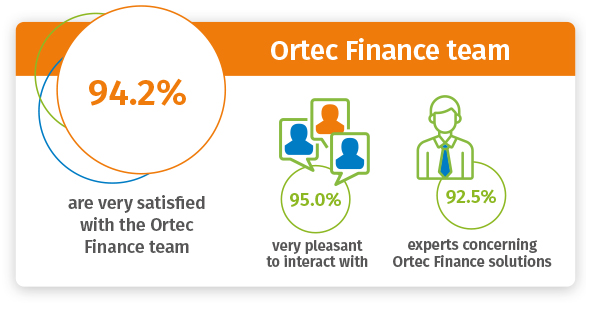 Product satisfaction
The survey results show that 85.9% of surveyed clients are very satisfied with the Ortec Finance product they currently use. Given the wide array of solutions that we offer to support our clients' business needs, we are very happy to learn that we manage to consistently meet their expectations in terms of product quality and performance. According to surveyed clients, Ortec Finance products:
Are accompanied by high quality support (88% of surveyed clients)
Are very capable of performing the tasks they are used for (85% of surveyed clients).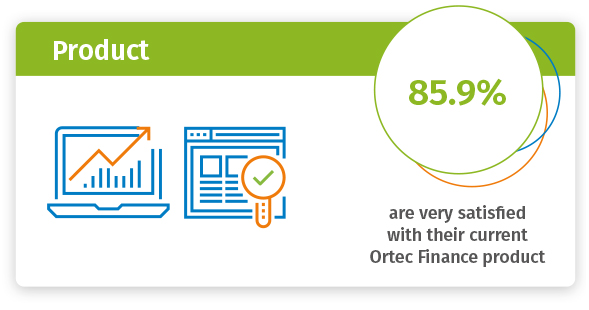 Satisfaction with information and communication
One way for us to engage with our clients, is to provide them with the most relevant and up to date information about our products and about the markets we operate in. Surveyed clients think we are carrying out this task well: 87.3% of them are very satisfied with the information they receive from Ortec Finance.
Loyalty
88.3% of surveyed clients stated that they intend to continue their business relationship with Ortec Finance over the next few years. Surveyed clients mentioned the high quality of our products, our expertise and reliability, and the pleasantness and professionalism of the employees as main reasons for remaining loyal to Ortec Finance.
Charity donations: this year, the feedback of our clients counts even more!
In this edition of our annual Customer Satisfaction Survey, we promised our clients that we would make a donation to a charity of their choice (out of a set of three) for each complete questionnaire. We are happy to announce that Ortec Finance was able to support Cool Earth, SOS Children's Villages, and Doctors Without Borders. A big thank you to our clients for allowing us to do this!