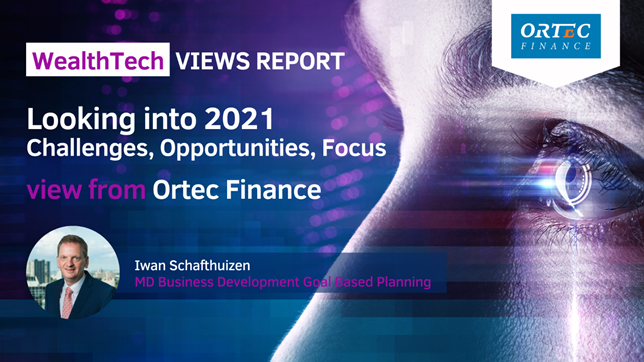 We are very pleased to announce that Ortec Finance's Goal Based Planning solution, OPAL, is featured in Wealth Mosaic's 'Looking into 2021' WealthTech Views Report. This issue, from the fast-growing WealthTech Views Report series, includes insights by thought leaders from seven technology solution providers across the globe. Each thought leader answered five questions about the challenges, opportunities, and focus points for 2021.
Besides a summary of the highlights from Wealth Mosaic's recurring yearly survey, you will also read about the key findings from an additional short survey conducted among clients of The Wealth Mosaic to gain additional insights into their experience in the market today. This client survey complements the report by focusing on additional topics, such as client engagement tools that are essential for wealth managers to operate in a lock-down environment.
For the global wealth management community, the WealthTech Views Report provides a uniquely focused, accessible, and relevant resource into the challenges, opportunities, and industry talking points for 2021.
The contributing firms include Contemi Solutions (Singapore), InvestCloud, Inc. (US), FundsDLT (Luxembourg), Ortec Finance (The Netherlands), Point Group (UK), SIX (Switzerland), and Tradesocio (UAE). The technology vendors span across business needs, wealth manager client types, and territories.
Interested in reading the full report?
Click here to read the full report