Hello! My name is Alexandar Lalicic and I recently finished my traineeship within the Investment Performance (IP) department. Upon completing my studies, I was still a bit unsure about exactly what kind of work I wished to do. I knew I had a broad interest in software development as well as financial analytics, but my main concern was that most of the junior roles offered by other companies in the financial sector seemed far too specialized/one-dimensional. This was where Ortec Finance really stood out for me.
My Traineeship
I began my traineeship in October 2021. Luckily, there weren't stringent lockdown measures and I was able to meet most of my colleagues in person. Although this initial in-person interaction was certainly very welcoming, given the international presence of the team, I was just as warmly welcomed online by members from the UK, Australia and Canada offices. So, from the very first day I gained experience in working with a dynamic and international team.
The first 2 weeks of the traineeship were rather demanding. I found the onboarding program to be well structured. It comprised of daily training sessions by my fellow colleagues, as well as exercise sets ranging from financial calculation exercises and operating the PEARL software, to more technical software development and coding exercises. Thereafter, I rotated around the three different teams, spending 2 months in each. This was a great way for me to learn the roles and type of work each team is focused on – although I quickly learned that the open culture of Ortec Finance essentially meant that everyone was communicating and working together as one big team. Additionally, I also had the opportunity to visit one of our clients in Stockholm, the Skandinavska Enskilda Banken – which was a really great experience!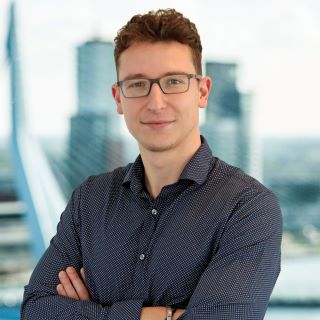 Alexandar Lalicic
Consultant Investment Performance
How we help our clients
After my traineeship, I joined the CORE team which essentially serves as the second-line support for more technical requests and questions from clients as well as being responsible for upgrading clients to newer versions of PEARL. In this way, we are able to help our clients understand and solve the more technical aspects of the PEARL software as well as provide them with new-and-improved versions over time, thereby helping streamline their PEARL user experience. Given the various custom implementations, the work can at times be challenging, but with the skill and helpfulness of my colleagues, I know will always figure it out!
What I like most about my job
Working with large international financial institutions and helping them in their investment decision process is very rewarding for me. However, what I like most about my job is the culture and people I work with. Most colleagues are easy-going, approachable and adopt a calm and constructive attitude when solving problems – even when problems seem impossible! These characteristics really resonate with the culture of the company given the open-plan office as well as the regular social events and activities. I'm not saying it really feels like one big family, to avoid sounding cliché. However, I do truly feel comfortable and that I can trust my colleagues!
How I am able to reach my personal goals
Self-improvement is a major personal goal of mine. Ortec Finance strongly supports any self-improvement endeavours, from pursuing other qualifications (e.g: financial qualifications like CFA and CIPM, advanced programming courses etc.) to internal knowledge sharing sessions from colleagues. Additionally, being fresh out of university, another major goal was to be exposed to the investment decisions of large international financial institutions and to gain experience and knowledge by working with a team of highly skilled professionals. Ortec Finance offers exactly this and some more!
The Investment Performance department
Ortec Finance's Investment Performance team offers financial institutions insights into the results of their investments at overall level and at each separate investment decision via its state of the art PEARL platform and fully outsourced Investment Performance Service.
Interested in joining Ortec Finance?
Did Alexandar's story trigger your enthusiasm for the IP traineeship? Don't hesitate to apply here or check out our vacancies!