Two of Ortec Finance IT specialists join Red Hat's Summit in Boston U.S. to speak about how cloud elasticity benefits HPC workloads on Azure Red Hat Openshift. Held from May 23 till 25, Red Hat's Boston premier open source technology event will host thousands of attendees.
Joris Cramwinckel and Zeid Adabel about their contribution: "The cloud is great for regular user applications, but what about high performance computing (HPC)? From building web apps to AI/ML apps that serve 2M+ residents, we have chosen Microsoft Azure Red Hat OpenShift. We configured a HPC framework on Azure Red Hat OpenShift consisting of solely Red Hat-supported operators, including AMQ Broker, Red Hat OpenShift Serverless, and custom metrics autoscaler.

"Without custom implementations in our framework, we migrated HPC applications from on-premise to cloud to perform large-scale financial simulations for better investment strategies. Most organizations, such as research institutions, deploy HPC workloads in resource and space-constrained private datacenters. Running HPC workloads in the cloud meant that we started to put the cloud's scalability and elasticity promise to the test."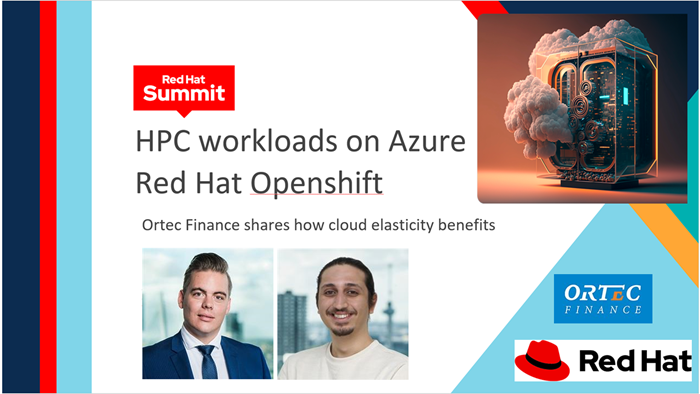 In their session they will share why they made this decision, the challenges faced, lessons learned, and the benefits. Supported by a demo, they will talk about how deploying HPC workloads on a managed Kubernetes platform, like Azure Red Hat OpenShift, helped Ortec Finance build a service that allow its clients to use hundreds of CPUs in the cloud, with a hassle-free approach and minimal resource footprint.