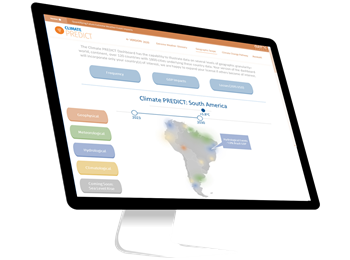 The financial sector is increasingly taking steps to assess risks and prepare for future climate changes. Still more is needed to create greater climate resilience. Before financial managers can make fundamental changes, they must first better understand to what extent climate change will amplify physical risk exposure to both gradual risks, such as sea level rise, as well as extreme weather losses. It is crucial to understand how event frequency, location, experienced direct losses, as well as a country's capacity to cope with the recovery are influenced depending on which global warming pathway the world is on. Did you already think through the risk differential of your real assets portfolio 20 years from now under a net-zero scenario pathway versus a high warming scenario pathway?


ClimatePREDICT assesses real assets' exposure to extreme weather risk under distinctive climate scenarios.
ClimatePREDICT quantifies the increase in frequency as well as impact (financial losses) of extreme weather risk to physical assets and economic growth. Extreme weather frequencies and expected losses year-by-year, per type of event (e.g. droughts, storms, floods) for over 150 countries and 1800 cities globally, are also converted to growth impacts per country. Based on our ClimateMAPS scenarios and latest climate attribution science literature, we deliver these forward-looking estimations for both a climate-uninformed baseline, as well as under different global warming pathways.
ClimatePREDICT is designed for financial institutions with large infrastructure, property and real estate portfolios such as banks, real estate managers, pension funds, and (re)insurance companies. This solution can help these organizations understand the financial impacts of climate attributable extreme weather on:
Mortgage risk
Real-estate evaluation
Property and casualty underwriting risks
Capital market return assumptions
Robust data sources: Encompassing global temperature anomaly data, urbanization data, extreme weather type specific data, and hazard risk data.
Quantified insight on financial risks: Extreme weather frequency and loss are differentiated by type of hazard, when and where the event will occur, and whether the frequency and losses are attributable to climate change
Proprietary extreme weather frequency and loss modeling: Forward-looking extreme weather risk and impact model differentiating climate-attributable and non-climate attributable damages.
Science-based, objective methodology: Dynamic model incorporating the most current literature.
Our three modules
The offerings will show estimates of the changes in extreme weather frequency, economic losses ($), and GDP impact over various climate pathways. Extreme weather impacts can be attributed to climate-induced and non-climate factors. These analyses are available in three different modules:
Consultancy & Bespoke Projects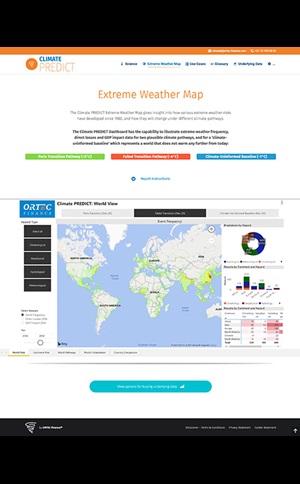 Access to our ClimatePREDICT dashboard with interactive map visualizations and associated narrative texts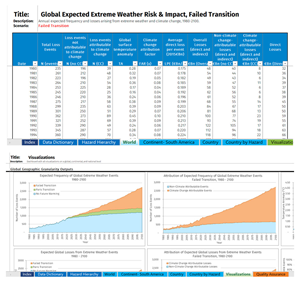 Dataset license for your country of interest. This is provided in conjunction with continent and world level data.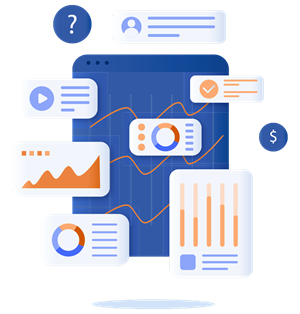 Consulting support and bespoke projects such as a zoom-in on a specific country/region, overlays with own in-house data. For example, how will extreme weather event losses change in a post-COVID world?
ClimatePREDICT is available via a user-friendly interactive dashboard, a dataset license, or a more bespoke service to enhance available in-house datasets with an additional climate-informed overlay.
About Climate & ESG Solutions and The Compass
ClimatePREDICT is part of The Compass – A suite of complementary solutions that integrate climate risk and opportunities into investment decision-making. If you would like to receive more information about ClimatePREDICT or have any questions, please contact us.
Ortec Finance's Climate & ESG Solutions offers The Compass alongside hands-on expertise to enable investors to effectively integrate climate risks and opportunities into their investment decision-making.
Comprising of ClimateALIGN, ClimateMAPS, ClimatePREDICT and ClimateSIGNS, The Compass generates quantified metrics and insights through independent and research-based climate knowledge, advanced models and innovative technology.
Its customizable analytics help financial institutions measure, manage and monitor their climate strategy.