Thursday March 31 Ortec Finance's Investment Performance team hosted two identical webinars on decision-based attribution: dealing with layered funds.
Two sessions were held to facilitate all regions around the world. Decision-based attribution is the best approach in dealing with attribution analysis for complex portfolios that are invested in multiple asset classes.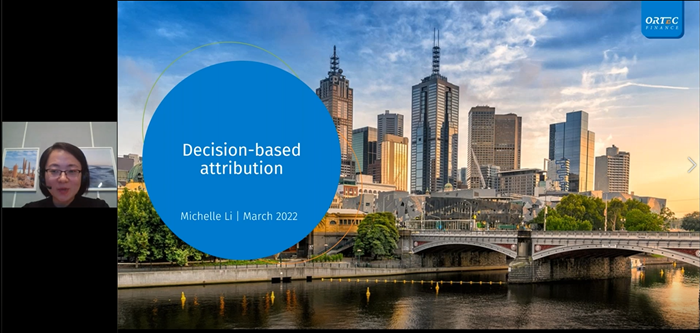 Elske van de Burgt, Managing Director Ortec Finance Investment Performance, earlier said: "The decision-based approach is appropriate for complex portfolios. Complexity can be reflected by multiple asset-classes, overlays, multi-currency, multi-manager funds or fund-of-fund strategies. In these cases, various teams are involved in the decision-making process, ranging from strategic to operational decisions – and overlay strategies might be implemented on a total fund level. Capturing the added value of each of the investment decisions that were made can be challenging.
Around 80 attribution specialists from around the world registered for this webinar.
Missed it, however interested in learning more?
If you are interested in receiving the slides used, or want to see the recording that was made, please send an email to Oliver Henriquez,
oliver.henriquez@ortec-finance.com
.