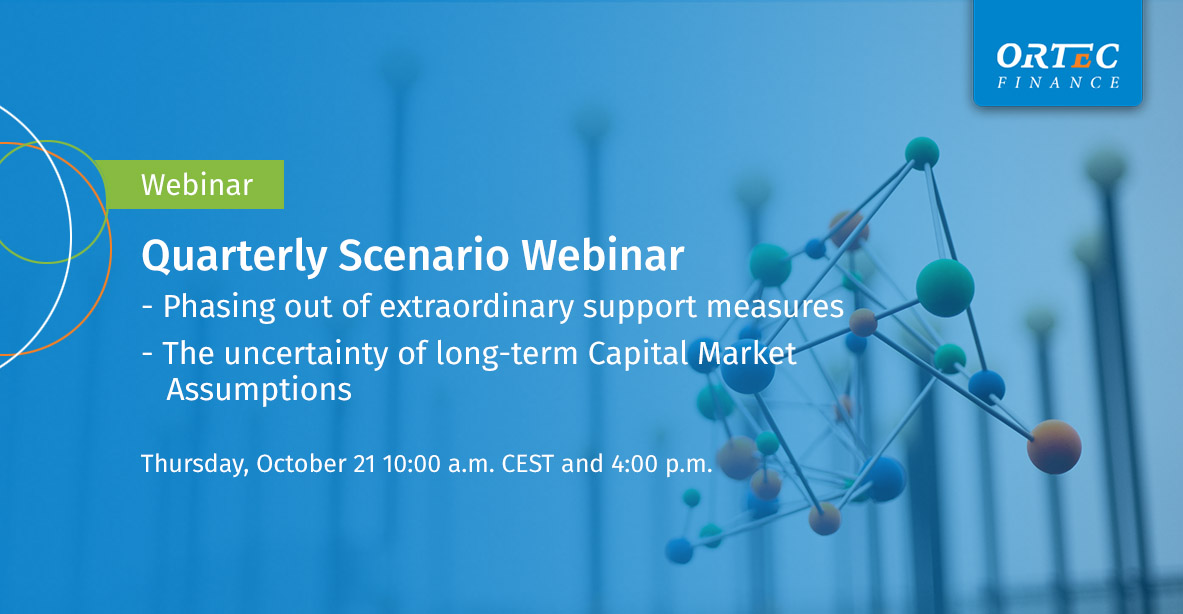 If you were unable to attend our Q3 2021 Scenario Webinar on October 21 – Phasing out of extraordinary policy support measures – you can access the presentation, the recording, and the Q3 Economic Outlook here. Download the presentation via the form on this page.
Our quarterly outlook is based on the Ortec Finance Economic Scenario Generator and offers our perspective on recent developments in the global economy and capital markets and what these mean for the future.
Gain expert insights into future economic and financial market developments with our Q2 Economic Outlook.
Get the latest news and an in-depth analysis of the key drivers of risk and return.
Q3 Economic Outlook highlights include:
Despite the pervasive spread of the Delta variant, economies are kept largely open as vaccines prove to be effective. On the downside, restrictive containment measures could be reimposed because of new virus mutations.
Third-quarter developed market equities ended sideways. Strong corporate earnings and robust economic activity balanced against revived concerns about inflation risk and the spread of the Delta variant. Going forward, the Ortec Finance Momentum Indicator signals equity markets to improve in the coming year.
Strong economic recovery led by equities surpassing all-time highs cause the business cycle to reach its highest level since 2014. We expect the Ortec Finance Business Cycle Indicator to normalize around the trend level in the coming years, also due to the rising inflationary pressures, especially from commodities.
The gradual phase-out of extraordinary support measures and loose financial conditions suggests that aggregate demand will be less supported, providing limited upward potential. Accordingly, we expect moderately positive returns on listed assets in the coming years.
Due to inflation risk and lingering uncertainty about new virus mutations, we expect market volatility to remain elevated on a one-year horizon.
Other downloads