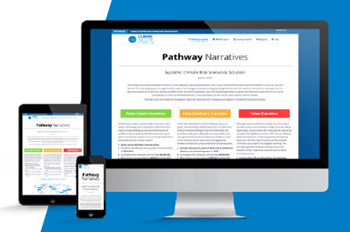 Climate MAPS quantifies your portfolio's exposure to systemic climate-related financial risks & opportunities across different climate scenarios.
The Climate MAPS solution equips investors with climate-informed risk-return metrics, including in absolute dollar value, that quantify exposure to systemic climate risks & opportunities across asset classes, regions, sectors, and holdings. This enables investors to integrate climate risk into risk-management, strategic asset allocation and asset liability management for investment decision-making.
Climate Risks are Systemic
Transmission channels & dynamic feedback loops between companies, sectors and countries amplify risk. Therefore, climate risk will fundamentally affect how economies & markets perform as a whole. That is why financial regulatory bodies recommend that investors take these risks into account.
Climate MAPS is designed with Pension Funds, Insurance Companies, Sovereign Wealth Funds, Banks, and Asset Managers in mind.
Get to know the full potential of Climate MAPS in 2 minutes
Applications include:
Climate-aware risk management: Quantify the impacts of climate-risks at the total portfolio, asset classes, sectors, countries & holdings level
Increase portfolio resilience to climate-risk and the potential to benefit from climate opportunities
Develop products that take systemic climate- risk into account
Educate and raise awareness of stakeholders to climate-related risks and opportunities
Fulfill forward-looking scenario-based climate risk disclosure requirements in line with regulatory guidelines.
Webinar on Climate MAPS
Climate MAPS is the first tool of its kind to integrate systemic climate risks and opportunities associated with different global warming pathways into financial scenarios sets that drive strategic investment decision-making. Please view the recording of our webinar for more details on key updates of our Climate MAPS tool. Some of these updates include extreme weather event and loss modeling, market sentiment dynamics and volatility, as well as country-region heat maps.
Download the full Climate MAPS brochure for more details

Take a look at all of the Climate & ESG Solutions in our Climate Compass overview.
If you would like to receive more information or have any questions, please contact us.