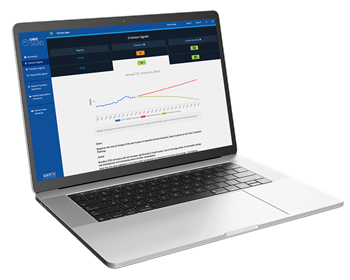 Climate SIGNS signposts the climate pathway the world is currently on.
Climate SIGNS is an information platform for anyone interested in an independently researched view on the world's current climate trajectory. It visually tracks, analyzes and displays indicators that enable you to monitor actual global progress against two climate scenarios: our Paris Transition Pathway and Failed Transition Pathway.
Climate SIGNS was designed with investment professionals, policy makers and non-governmental organizations in mind. It conveniently tracks emissions, transition, and physical signals in one overview.
Get to know the full potential of Climate SIGNS in 2 minutes
Applications include:
Likelihood Analysis: Understand the relative likelihood of a given climate scenario actually occurring.
Gap analysis: Independently motivate to what extent the world is on track to meeting climate goals.
Our user friendly Climate SIGNS dashboard is available as a stand-alone subscription service or as an 'add-on' module to Climate MAPS.
Webinar on Climate SIGNS
Please view the recording of our webinar to demo Climate SIGNS Version 1.0 in October 2020. The webinar goes into detail on the climate indicators and signals we track, giving you a flavor of how you can utilize Climate SIGNS to better navigate a changing climate
Download the full Climate SIGNS brochure for more details

Take a look at all of the Climate & ESG Solutions in our Climate Compass overview.
If you would like to receive more information or have any questions, please contact us.