About OPAL for Salesforce

This unique app uses the OPAL engine that links investment portfolios to financial goals and tracks the progress over time on a daily basis, based on actual portfolio values and economic projections that reflect the latest market conditions. OPAL uses realistic portfolio projections of institutional-quality, based on monthly updated economic scenarios for more than 700 asset classes. This enables advisors, wealth managers and planners to translate their client's goals into suitable investment decisions, which comply with regulation.
Available on the AppExchange or as integration package to the OPAL UI
OPAL is available as native app on the Salesforce platform, which enables a seamless and integrated solution for the advisor. The app can be downloaded from the AppExchange for a 30-day free trial period. Alternatively, we can provide a data integration package, enabling a direct interface between the Salesforce platform and the OPAL Wealth UI or OPAL Planning UI.
Features
Forward looking wealth projections

MiFiD II compliant product advice
Goal Based Planning based on up to date forward looking wealth projections.

Supports advisors with MiFiD II compliant product advice related to suitability and appropriateness.
Advisor Dashboard with daily updated monitoring for signaling off track client goals.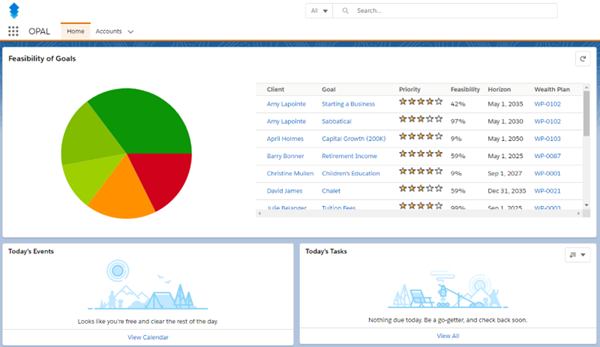 Automated Suggestions throughout the advice process and comparison of portfolios and goal feasibility.

Direct data integration between client records on the Salesforce platform and the OPAL Wealth or OPAL Planning user interface.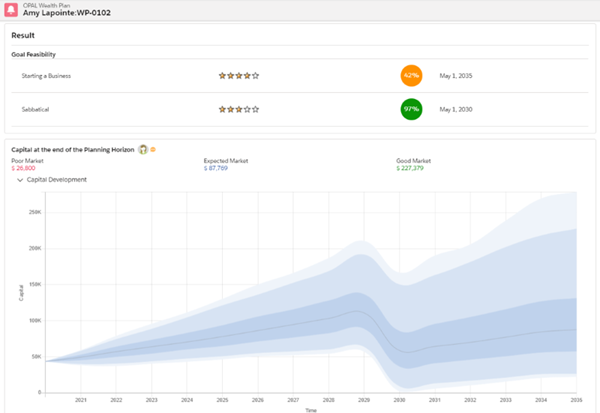 Start Monitoring your client's goals now:
Discover our solutions for this industry
Goal Based Wealth Management

Forward-looking insights into whether clients are on-track related to their investment objectives, to support timely advice, efficiently, at scale.

Translate client financial goals into an optimal investment strategy that reflects their personal ambitions, cash flows and risk appetite and monitor the progress over time.

Enable clients to fund their lifelong retirement expenses through an integrated accumulation and decumulation strategy or discover options such as early retirement or other financial goals.