The OPAL app enables wealth managers and advisors to monitor their client's financial goals. This unique app uses the OPAL Goal-Based Planning engine that links investment portfolios to financial goals and tracks the progress over time on a daily basis, based on actual portfolio values and economic projections that reflect the latest market conditions.
OPAL is available as native app on the Salesforce platform and provides users with the following benefits:
Increase client engagement through a goal-based approach and high quality plans and proposals. With OPAL, you can propose a suitable investment portfolio aligned with the goals and risk appetite of your client
Add more value to client engagement through pro-actively monitoring financial goals over time. OPAL supports daily updates of goal feasibility and portfolio projections that take the latest economic outlook and actual portfolio value into account
Efficiently manage the plans and portfolios of all clients in your book, by off-track signaling and call-to-actions. The tooling helps advisors to find out which client needs immediate attention and support to get their plans back on track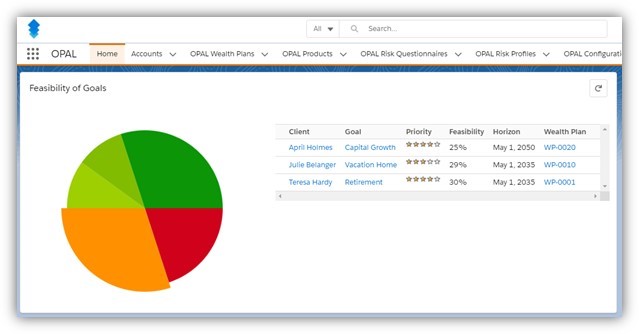 Features
The OPAL App contains the following features:
(Multi-) Goal Based Planning
Wealth Projections based on monthly updated data
Tailoring of Asset Classes, Portfolios and Products
Automated Suggestions throughout the Advice process
Comparison of Portfolios and Goal Feasibility
Reports and Proposals through Integration Document Generation Apps
Daily Monitoring of Goals
Determine Risk Attitude based on scoring and Questionnaires
Experienced Support Team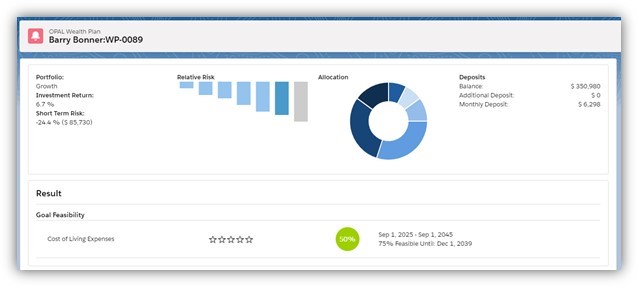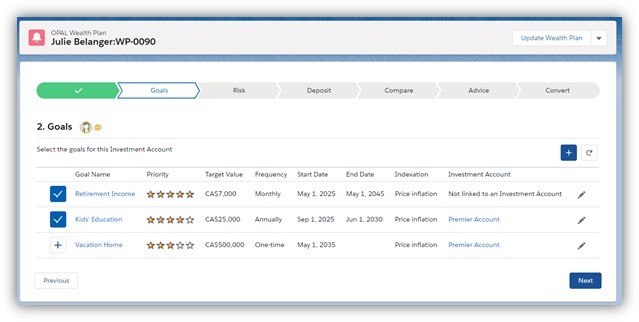 About OPAL
OPAL facilitates goal-based planning and monitoring of client goals. This solution addresses some of the major challenges in the traditional advice process:
Only a minority of clients receive some sort of planning when they start investing
Plans are often static documents and the financial goals of clients are not monitored
Assumption for growth in the underlying investment portfolios are often extremely basic and unrealistic
OPAL makes use of institutional-quality, realistic portfolio projections, based on monthly updated economic scenarios for more than 700 asset classes. This enables advisors, wealth managers and planners to translate their client's goals into suitable investment decisions, which comply with regulation. Goal-based planning leads to better investment decisions and realistic client expectations. It also helps advisors to keep track of the likelihood of achieving their client's goals through dynamic updates that track the conditions and outlook on financial markets. Our institutional background and experience enables us to model a wide range of asset classes and funds and implement tailored client portfolios, matching the actual products that are offered to clients.