Housing associations create a multi-year budget, which showcases the expected development of the financial results. An essential component of the multi-year budget is identifying the financial risks in the balance sheet and cash flow trends.
In WALS you have the possibility to create and compare different investment plans and analyse your financial metrics. However, the following questions, among others, remain unanswered:
What are the chances of breaching your Golden Rules like Interest Cover or Gearing in year x?
What are the main risk drivers of your plan?
The risk management module (RM) helps to find the rights answers. It enables you to analyse a large number of macroeconomic scenarios. The outcomes form a range of potential results for all your financial metrics, both numerically and graphically (see figure EBITDA MRI interest cover).
That way it is possible to say something about how likely certain parameters will deviate from the used set of expectations, and how the correlation of different macroeconomic indicators increases or decreases risks. Helping you to identify the main risk drivers for multiple investment plans that breach your Golden rules.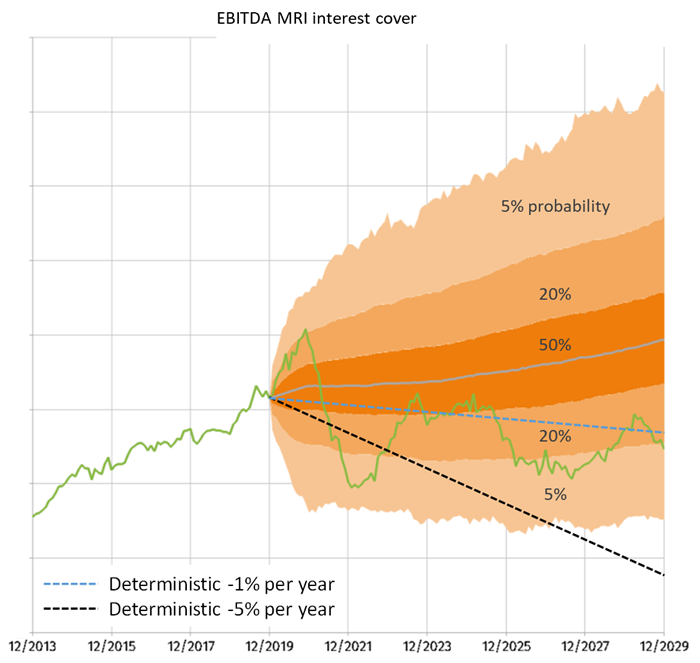 Ortec Finance Scenario Set (OFS)
The OFS comprises a wide range of equally probable and interconnected scenarios. The OFS undergoes regular updates every quarter, incorporating the latest developments. These scenarios are generated by Ortec Finance's Economic Scenario Generator (ESG), which combines historical data with expert insights. When you acquire RM, you gain access to the OFS specifically designed for housing corporations, in addition to its computational functionality.
Fully integrated
Upon purchasing RM, extra features are integrated into WALS. Therefore, WALS serves as the fundament for RM. This means you can directly start working with familiar screens, without the need for separate login credentials, while ensuring seamless integration between WALS and RM. This gives you the opportunity to stress test all the plans that are available in WALS.
Key features
Integrated within WALS
Detailed reporting available with monthly, quarterly and yearly outlooks
Predefined scenarios based on Ortec Finance assumptions
Sensitivity analysis for macroeconomic parameters based on own assumptions
Periodic updates (quarterly) of the Ortec Finance Scenario Set.
Contact
If you have any questions on Ortec Finance Risk Management, please get in touch David Kronbichler via the contact details below.