The start of a New Year traditionally is a moment at which we look back and reflect on the past year and a time to look forward, making New Year's resolutions, for example.
At an insurance company, it is no different. The actuaries at the reporting departments will be busy analyzing last year's results, breaking them up into different elements, and explaining them in the annual report. The risk- and capital managers will report on last year's risk results, but also have an essential role looking forward. They should answer questions such as to whether future profit generation is sustainable, given the chosen capital policy, and whether future risks will stay in line with the defined risk appetite statement.
The analysis of change is a term that is known to every actuary, mostly used for analyzing past performance, for instance, in MCEV reporting. It, however, is also a powerful tool in a forward-looking analysis. In an ALM or ORSA analysis, projections are made to help answer questions, such as the ones mentioned above. A standard ALM or ORSA contains projections of the future balance sheet, profit and loss statement, and Solvency II risk capitals. Adding analysis of change will gain insight not only in the profit (or loss) generated in these projections but also in the sources of future profits.
A forward-looking analysis of change contains information on the profitability of future new business. It splits the return on investment into different risk sources and gives insight into the impact of changing interest rates on the liabilities, including UFR, VA, and CRA drag. As such, it also contains elementary information needed for the Net Capital Generation (NCG) reports as requested by DNB.
Analysis of Change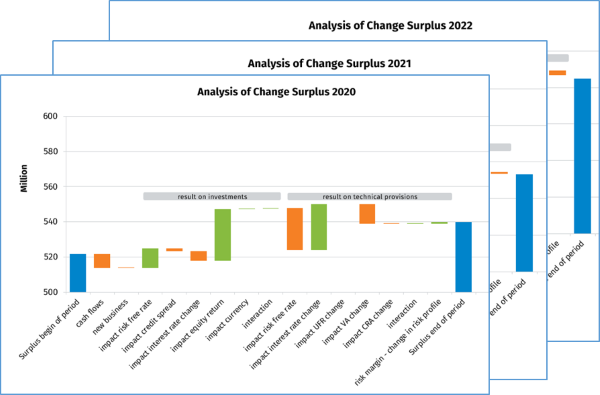 Several national regulatory authorities indicated that they were not satisfied with the overall quality of the NCG reports. They announced that they would be investigating how to improve the quality of the NCG reports. We strongly believe that adding an analysis of change to ORSA projections will enhance the quality of both ORSA and NCG reporting. It will give insight into sources of future profit in the base and stress scenarios, and in the impact of management's actions on future capital generation. The analysis of change should be fully automated and integrated in ALM and ORSA tooling to make it an effective tool.
Over the last few years, we have added an integrated analysis of change to our standard ALM/ORSA tooling. Our New Years' resolution is to make the analysis of change, the new standard, for forward-looking analysis.
More information?
If you would like to know more about the possibilities of adding an analysis of change to your ALM or ORSA analysis, please do not hesitate to contact us.