Business cycles are one of the defining characteristics of realistic market behaviour ("stylized facts") in asset prices, yield curves and volatilities, as well as in the broader macro-economic environment. It is therefore important to take business cycles into account when making investment decisions.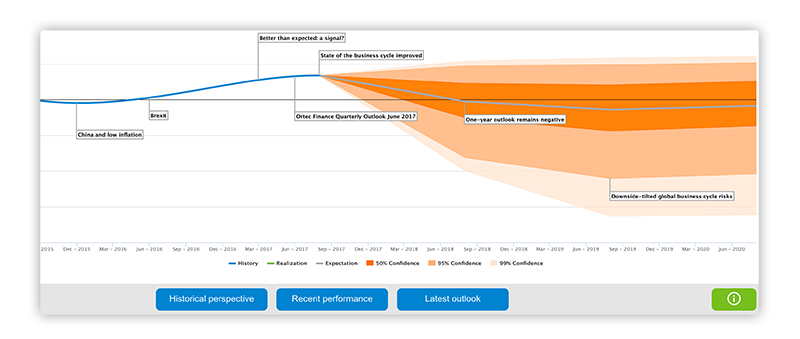 The Business Cycle Indicator
Similar to other business cycle indicators, the Ortec Finance Business Cycle Indicator (OF BCI) measures the global state of the business cycle on a monthly basis. However, the OF BCI also provides an up to date outlook of how the business cycle is expected to evolve in the future, together with the uncertainty associated with this outlook.
Ortec Finance scenario approach
In order to allow you to analyse the evolution and the outlook of the business cycle yourself, we have made available an interactive business cycle chart. The information in this chart is based on the Ortec Finance scenario approach. With the help of the chart, you can learn about historical business cycle developments starting in 2000. You can also see how the recent business cycle developments compare to recent outlooks, and learn more about our latest business cycle outlook. The information in the chart will be updated on a monthly basis.