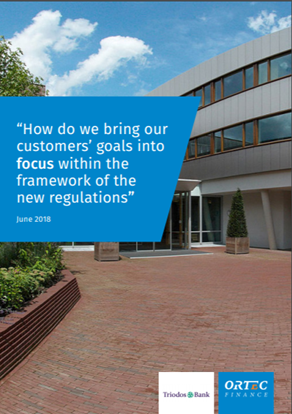 'Liberté, égalité, fraternité'
The Triodos Bank is 35 years old. The purpose of this still quite young bank, is to use the clients' money to increase their quality of life. "We do that primarily by financing small and medium-sized entrepreneurs who have good ideas for a better world", says Albert van Zadelhoff, Director Private Banking. "Locally we mainly do that through our credit company and as shareholders and bond holders through our investment company. The founders of Triodos recognised that they could best accomplish their plans by founding a bank, because that would allow them to scale up. Back then that was seen as a forward-looking vision. A bank has a lot more elbow room than, for example, a foundation or co-operative and Triodos clients remain connected to their money because we show them the impact of that money."
Who strives for a better world must act accordingly, says Van Zadelhoff. "We are prudent bankers. We apply the principle of 'liberté, égalité, fraternité'. So we do not use bonuses, because we all contribute proportionally to the success of the bank. At Triodos you are responsible for your own development. And you remain alert to that of your neighbour." Van Zadelhoff has worked for twelve years at Triodos, where Private Banking serves both wealthy individuals and associations, foundations, and churches. "We invest very transparently and are committed: with all companies we have a hearty preliminary conversation about sustainability. This also applies to suppliers. So we check for example whether a supplier is careful in the use of materials and how they deal with their staff."
Regulation requires, among other things, that we ensure that our clients' financial goals are feasible. We wanted to achieve that without it becoming predominant in our discussions and our communication.